"This combo is awesome! I drink Detox & Cleanse in the morning and it gives me a boost of energy. And, before I go to bed I drink the Gut health, it works it's magic during the night and in the morning it cleans me. No bloating, cramps or crazy laxative! Extremely effective and well made blends that keeps me healthy. My teas forever!." - Linda
✔️ Helps support constipation relief
✔️ Support natural colon cleanse detox
✔️ Support a healthy digestive system
✔️ Helps reduce bloating and gas
✔️ Support metabolism and energy levels
This Gut Health + Detox & Cleanse is the perfect program for women searching to help improve their digestive system and manage a healthy weight. Inspired by a vibrant lifestyle, the teas recall memories of our body's agility and embodiment of freedom & happiness. It's never been simpler to relieve bloating and gas, constipation, indigestion, support your metabolism and energy levels, with fresh brewed tea anywhere. It's time to empower yourself to kick start your health with these teas for colon cleanse that help your upset stomach. And, take your body to the next level with the ultimate herbal gentle smoothness for heightened digestive performance. These organic, hand-selected superfood herbs for digestion, propels the body to naturally activate detoxification with fluid precision to help support body & liver cleanse. Refreshing & sweet orange, peppermint tastes combined with a mixed berry flavor explosion are the most self-indulgent teas that you will have all year. Every sip is a soothing, energetic experience that helps support your body's health.
15-Day Gut Health + Detox & Cleanse program in two simple steps:
Drink a cup of delicious Detox & Cleanse tea every morning

Drink a cup of delicious Gut Health tea every night
Gut Health - 30 cups of tea. Detox & Cleanse - 30 cups of tea.
Gut Health Tea: Organic Peppermint, Organic Ginger, Organic Fennel, Organic Honeybush, Organic Chamomile, Organic Hawthorn, Organic Marshmallow, Natural Peppermint Flavor, Natural Mix Berry Flavor, Organic Stevia, Organic Valerian, Organic Calendula.
Detox & Cleanse Tea: Organic Licorice, Organic Hibiscus, Organic Ginger, Organic Cinnamon, Organic Dandelion, Organic Stinging Nettle, Organic Lemon Balm, Natural Blood Orange Oil, Organic Burdock, Organic Turmeric, Organic Cardamom, Organic Orange.
Our teas are: Certified Organic!! Non-GMO, no sugar, vegan, gluten-free, paleo, dairy-free, no preservatives, soy-free, no additives, or anything artificial. Made with biodegradable sachets.
Giving back: For every tea sold we donate to support victims of domestic violence. Everyone deserves to be happy!
As with any dietary supplements & herbs, advise with your healthcare professional before use. If you are pregnant, considering getting pregnant, breastfeeding, taking medication or have any medical condition please consult with your healthcare professional before using this product. Keep out of reach of children.
†These statements have not been evaluated by the Food & Drug Administration. This product is not intended to diagnose, treat, cure, or prevent any disease.
For adults only! Results are not guaranteed and may vary from person to person.
Written by
an anonymous user
on
Customer Reviews
based on reviews
There are no customer reviews yet.
Thank you for submitting your review. Once it is approved, your review will show up in the list of reviews.
Submitting your review failed. Please try again.
Mother nature's benefits for a
healthier. happier. better you!
Supports Gut Health & Colon Cleanse
Marshmallow: Helps support gut health and colon cleanse, urinary tract, constipation relief.*
Help Reduce Bloating
Peppermint: Helps relieve heartburn, abdominal gas, and bloating. And, support healthy weight.*
Help Reduce Inflammation
Ginger: Helps relieve gut inflammation & supports digestion. Supports a healthy metabolism and energy levels.*
Help Relieve Indigestion
Calendula: Helps relieve indigestion and helps detoxify body from pathogens.*
Relieves Cramps
Fennel: Helps soothe stomach line, helps reduce gas, bloating & helps relieve cramps.*
Helps Clean Gut Naturally
Burdock: Helps cleanse digestion system, colon cleanse, improves circulation and helps support healthy skin.*
Weight Loss
Hibiscus: High in antioxidants. Helps support liver function and can support weight loss.*
Helps Detoxification
Dandelion: Helps support kidney and bladder function, and healthy gut bacteria. Helps support detoxification.*
Supports Brain Health
Turmeric: Helps support immune system and helps increase the antioxidant capacity. Helps supports brain function.*
How to Use It
1. Boil the water.
2. Place sachet in a 8oz. cup, mug or tea infuser and add freshly boiled water.
3. Steep for 5 minutes.
4. Reuse sachet to brew a second cup.
5. Enjoy 1-2 cups a day per tea.
6. Drink Detox & Cleanse in the morning and Gut Health at night.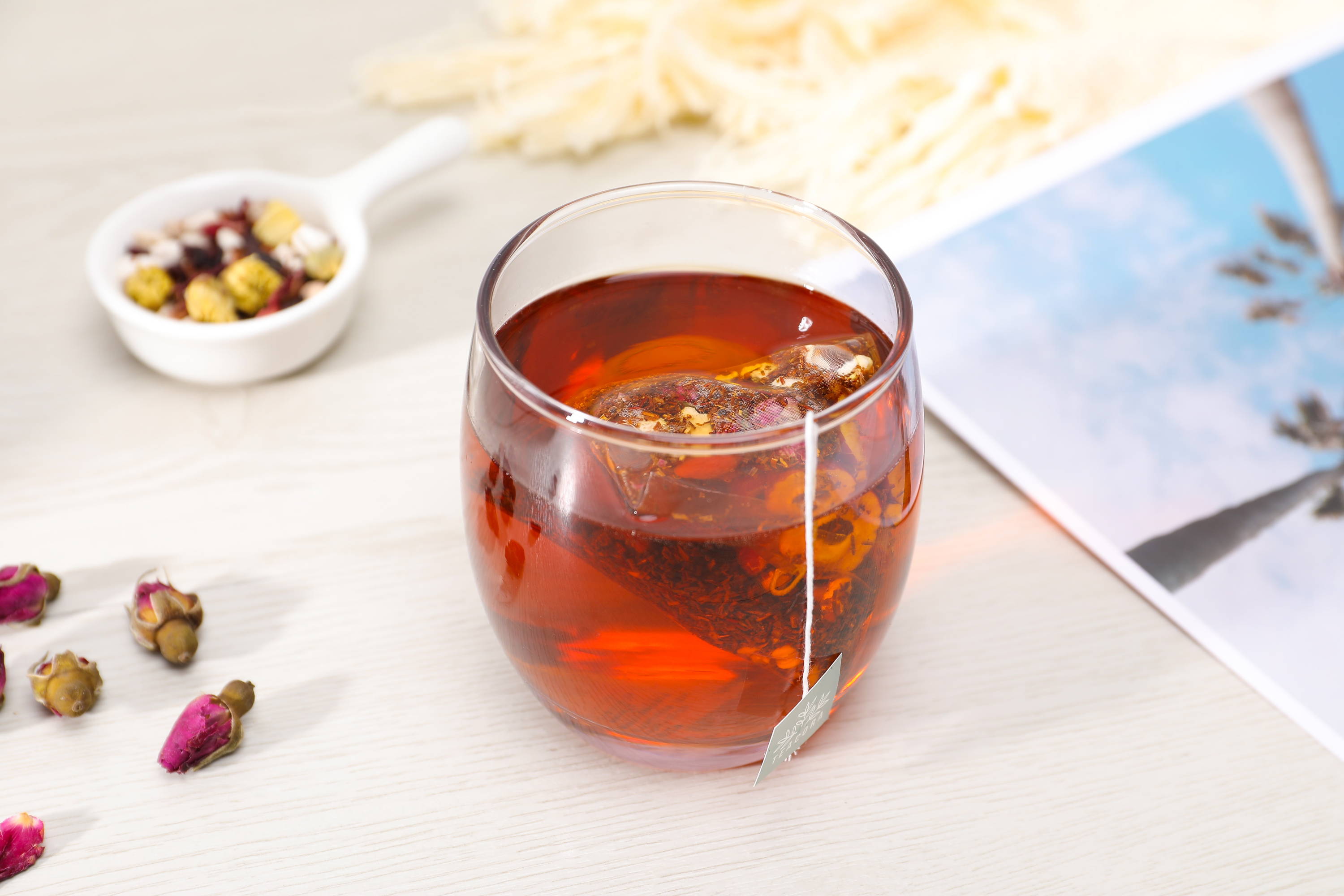 Frequently Asked Questions
How does the program work?
Our 15 Day Gut Health and Detox & Cleanse Program is super easy to incorporate in your busy daily life, giving your body a fresh start and help support your healthy lifestyle. There are two teas, the Gut Health and the Detox & Cleanse! Drink the Detox & Cleanse in the morning and the Gut Health at night, before going to bed! Reuse the pyramids the next day.
Can I continue beyond 15-Days?
Yes, our program contains two carefully crafted teas that are a powerhouse of 20 super herbs, and is a very gentle detox & cleanse program. It doesn't contain dangerous laxatives that can induce pain, discomfort and cramps. Your wellness is important to us, therefore helping relieve discomfort is our intent.
Can I drink the teas while pregnant/breastfeeding?
First, congratulations!! There is tremendous joy and hardship in being pregnant and/or breastfeeding. The herbs in our teas are very popular among pregnant and nursing mothers. We recommend reviewing with your health care provider the ingredients to help you make the decision about what herbs are safe for you and your sweet baby!
Does it contain Senna laxative?
Absolutely NOT! Senna can have the following side effects: Abdominal pain or discomfort, Cramps, Diarrhea, Electrolyte abnormalities, including low potassium (hypokalemia), Excessive bowel activity, Finger clubbing (long-term use), Melanosis coli, Nausea, Kidney inflammation. Our goal is to support gut health, with gentle detoxification & cleanse, we do not wish for you to experience these Senna side effects!